4 1/2 voet Spinet Virginal
según/after Ihoannes Ruckers, Antwerp 1629
Marianne Lilian Pérez Robledo
Luthier - Harpsichord Maker
www.lpr-luthier.com.ar
Buenos Aires - Argentina - 2011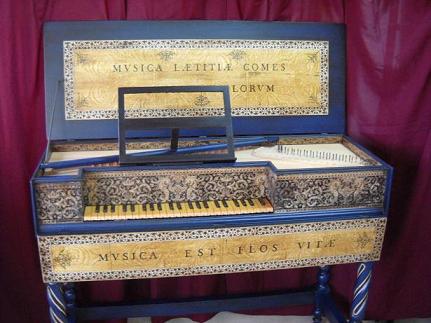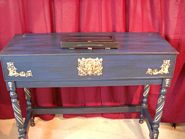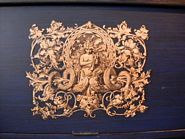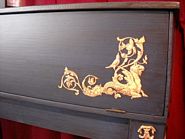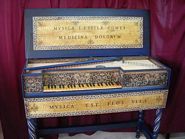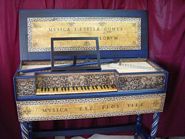 Decoración: Karina Kohoutek
( www.kskohoutek.com.ar )
4 1/2 voet Spinet Virginal
Una de las características principales y diferenciadoras de los virginales es que sus cuerdas se apoyan en dos puentes, ubicados en distintos sectores de la tabla armónica, a izquierda y derecha del intérprete, lo cuál hace que la cuerda produzca dos sonidos, simultaneamente, de distinto timbre.
En cambio, en los claves y las espinetas, las cuerdas se apoyan en un puente ubicado sobre la tabla armónica y en una cejuela (muda) ubicada sobre el bloque macizo del clavijero. El timbre de cada cuerda es único, ya que sólo el puente capta su sonido y lo transmite a la tabla armónica.
Los virginales, en general, tienen el teclado ubicado en el centro del frente del instrumento, pero en la variedad muselaar virginal el teclado se ubica desplazado hacia la derecha, haciendo que los plectros tañan la cuerda cerca de su nodo (punto medio), dando un sonido aflautado, sumamente apreciado en la época.
En el caso de los spinet virginal, el teclado esta ubicado desplazado a la izquierda, pellizcando la cuerda mucho más proximamente al puente izquierdo, que es en realidad una cejuela muda, ya que debajo del sector de la tabla armónica en que se encuentra la cejuela, Ruckers colocó un macizo listón encolado a la tabla armónica donde están ubicados los clavos de anclaje de las cuerdas. Por eso su sonido es mucho más parecido al de una espineta o un clave y de ahí su denominación.
Este modelo de spinet virginal tiene una escala reducida de cuatro y medio piés de Antwerp, midiendo 1,30 m, a diferencia de los virginales y muselaares de escala normal, que miden aproximadamente 1,80m.
Los virginales originales de Hans, Andreas y Ihoannes Ruckers, tenían sus teclados enchapados en hueso y sus frentes de teclas con un diseño calado y encolado en pergamino. En la versión del instrumento documentado en la parte superior de esta página, colocamos un cálido enchapado en boj y frentes de teclas con arcadas, por preferencia del propietario.
One of the main characteristics and distinguishing of the virginals is that the strings are based on two bridges, located to the left and right of the musician in different places of the soundboard, which makes the string to produce two sounds simultaneously, of a different timbre.
In contrast, in harpsichords and spinets, the strings rely one end on a bridge located on the soundboard and the other end on a nut (dumb bridge) located on the solid block of the wrestplank. The timbre of each string is unique, since only the bridge captures the sound and transmits it to the soundboard.
In general, the keyboard in virginals is located on the center front of the instrument, but in the variety muselaar virginal the keyboard is located far to the right, causing the jack's plectra pluck the string near the node (middle), giving a piping sound, highly appreciated at the time.
In in a spinet virginal, the keyboard is located shifted to the left, plucking the string much closer to the left bridge, which is actually a dumb bridge (in fact a nut), because under the soundboard's sector where this nut is placed, Ruckers glued a solid bar beneath where are nailed the hitchpins (string's anchoring nails). So its sound is much more like a harpsichord or a spinet and hence the name spinet virginal.
This model has a reduced scale of four and a half feet of Antwerp, measuring 1.30 m long, unlike the normal scale virginals and muselaares, measuring approximately 1,80 m.
The original virginals made by Hans, Andreas and Ihoannes Ruckers, had their keyboards venered with bone key's tops, and the key fronts decorated with a draft design and sizing parchment.
In the documented version of the instrument shown at the top of this page, by preference of the owner, we venered the key's tops with a warm boxwood and arcaded key fronts, more frequently found in the italian harpsichord building school.
Otras versiones / Other versions