Órgano positivo / Positiv organ
según / after
Gottlieb Näser, Fraustadt, 1734 (*)
(original in the Germanisches Nationalmuseum, Nürnberg)
Transposer 415 -440 / Chromatic C - c3
Teclado partido / Divided stops: c/c# (440) - c#/d (415)
Disposición / Disposition: Tapado/Gedackt 8' + Tapado/Gedackt 4' + Principal 2'

Pedal keyboard C - c (transposer 415 - 440)
Marianne Lilian Pérez Robledo
Luthier - Harpsichord maker
www.lpr-luthier.com.ar
Buenos Aires - Argentina - 2005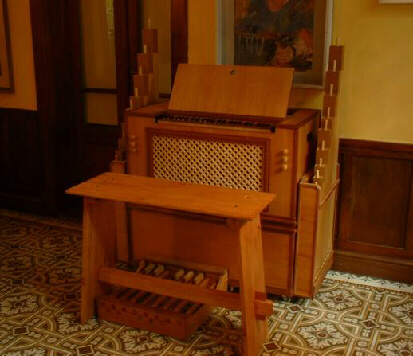 (*) Mensuras de la tubería y secreta según Gottlieb Näser
(la extensión del teclado, el diseño final y la pedalera no pertenecen al modelo original).
(*) Pipe dimentions and chest after Gottlieb Nässer truhenorgel
(the keyboard compass, the final design and pedal keyboard are not copied from the original instrument).
Colaboraron en la construcción de este órgano (en orden alfabético) /
Collaborators in this organ building (in alphabetical order):
Rafael Ferreyra, organista / organist
(luthería y supervisión general / instrument making and general supervision),
Enrique Godoy, organero y restaurador / organ maker and restorer
(tubería de metal y asesoramiento general / metal pipes and general advice),
Miguel P. Juárez, organista e investigador / organist and researcher
(asesoramiento general / general advice)
Daniela Fernanda Pérez, asistente / workshop assistant
(luthería y asistencia general / instrument making and general assistance).
Para todos ellos, para mi familia
y para el maestro Mario Masera,
quién encargó el instrumento,
mi más profundo agradecimiento,
por su confianza, apoyo e inmensa paciencia.
/
For them all, for my family
and for maestro Mario Masera,
who ordered the instrument,
my deeper grattitude,
for their trustfulness, support and huge patience.